Posted by Laura Abernathy Huffman on Oct 12th 2023
By Laura Abernathy Huffman
Let's be frank- Mayor Louie and his merry band of fudge packers relish a big wiener in Uranus. Especially when the wiener is the 27-foot-long, 11-foot-tall, 14,000 pound Oscar Mayer Wienermobile!
The Wienermobile was first unveiled in Chicago in 1936 after the Great Depression to spread smiles- and to sell Oscar Mayer branded hot dogs. The giant frank-on-wheels hit the hot dog highways full-time in 1988. More people have been to space than have driven the Wienermobile.
Hotdoggers Chlo-Wienie and Glizzy G. pulled the Oscar Mayer Wienermobile into Uranus October 9th. Although the Wienermobile has been in Uranus at least three times, it was the first time in Uranus for this pair of hotdoggers.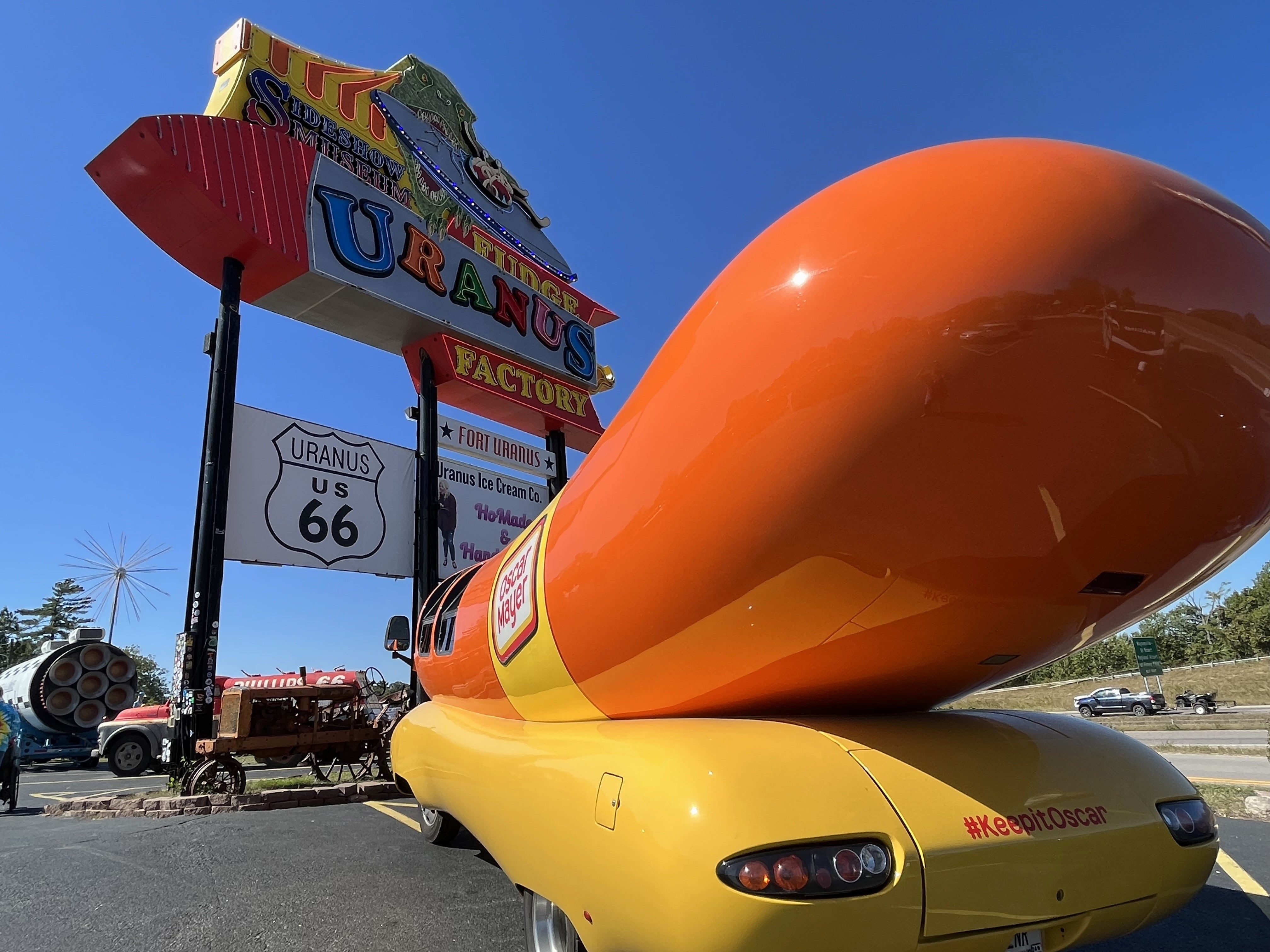 Oscar Mayer's Wienermobile pulled into Uranus again! The Wienermobile has been in Uranus June 27, 2022, March 21, 2023, and again October 9, 2023.
As soon as the hotdoggers popped out of the Oscar Mayer Wienermobile they were whisked away for a guided tour of Uranus. They received a hearty "Welcome to Uranus" from the fudge packers as they entered Uranus Fudge Factory & General Store.
Chlo-Wienie and Glizzy Garrison sampled fudge from Uranus and admired our #2 best-selling items- Uranus-branded t-shirts. The pair poked around the magic shop at Uranus Sideshow Museum and chuckled at the signs posted around town. They mustard the courage to check out the Baby Rattlers exhibit in the Uranus City Jail. They peeked at the World's Largest Belt Buckle, admired the dinosaurs, petted the alien, and posed for photos at Uranus Ice Cream Company.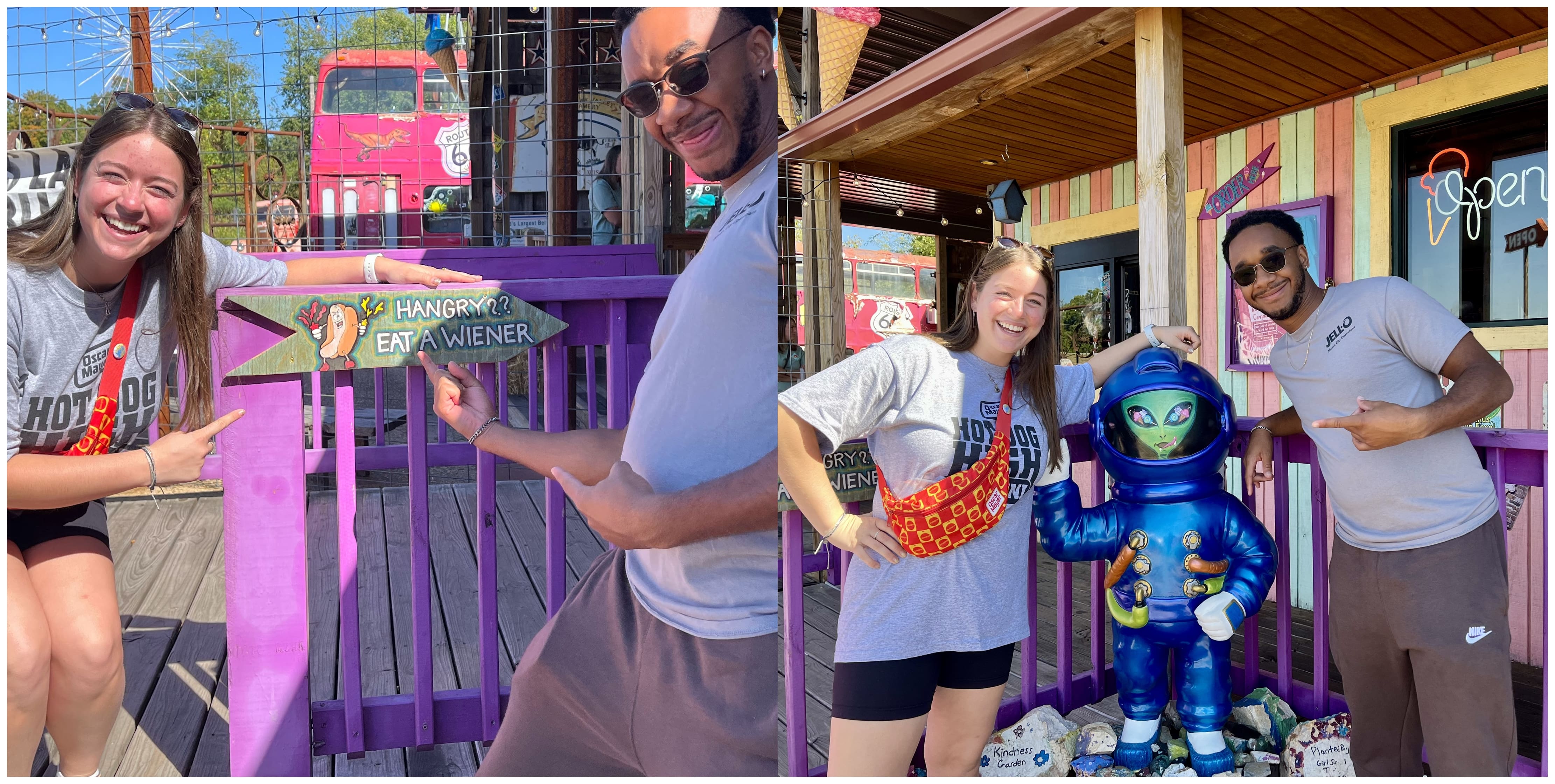 Hotdoggers Chlo-Wienie and Glizzy G hot dogging in Uranus!
Chlo-Wienie and Glizzy G both attended Oscar Mayer's Hot Dog High at Madison, Wisconsin. There the hotdoggers received media training and also learned how to drive and maintain the Wienermobile. Chlo-Wienie quickly put the media training to use when she was interviewed at Hot Dog High by CBS News.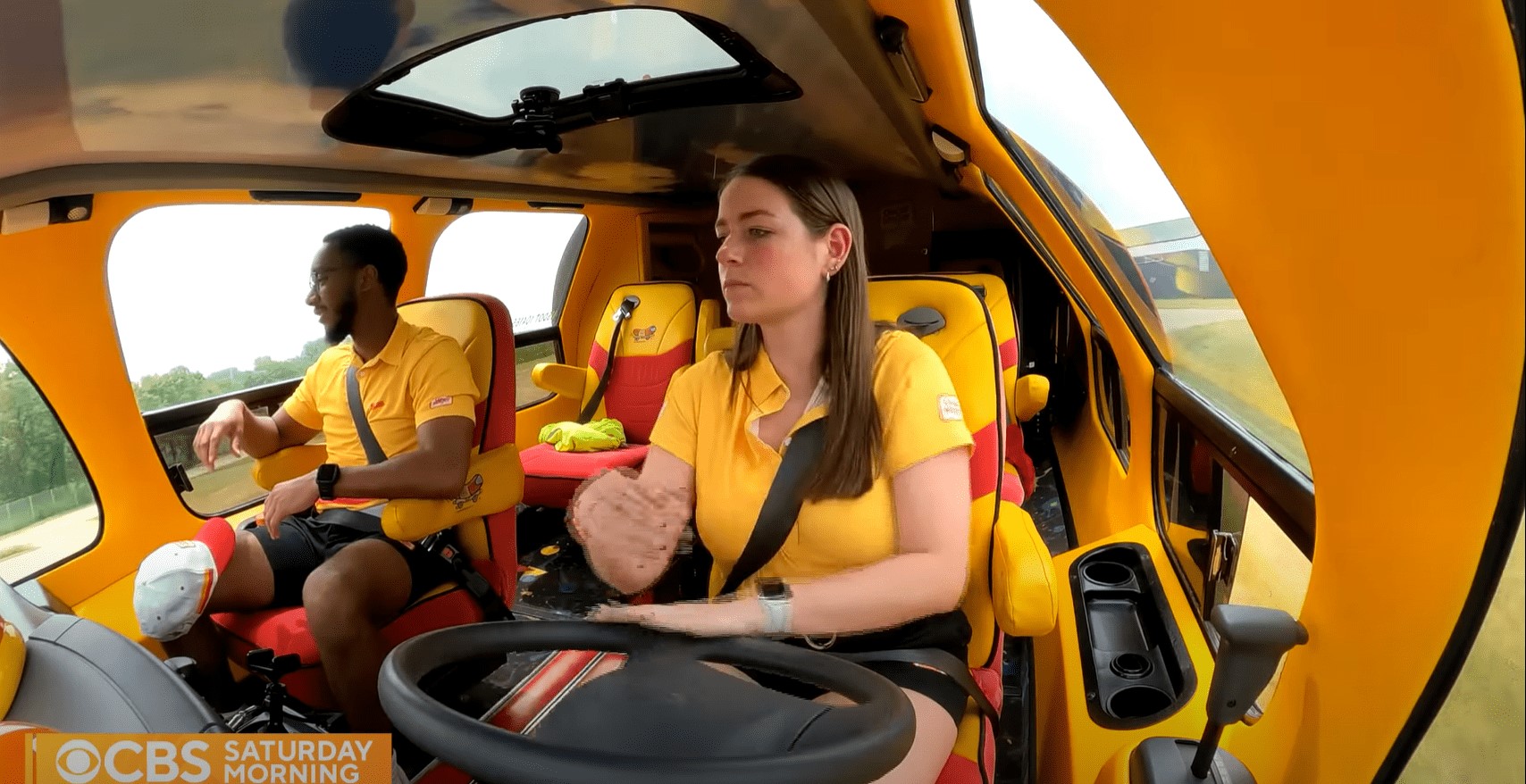 Hotdoggers Chlo-Wienie and Glizzy G in the Wienermobile. Image via screenshot, "Here's what it takes to drive Oscar Mayer's iconic "Frankmobile" by CBS News.
The pair of hotdoggers safely pulled the Wienermobile out of Uranus and began hauling buns westbound on historic Route 66.
Mayor Louie, Miss Tiffany and their merry band of fudge packers can't wait to ketchup with the Wienermobile in Uranus again. Thanks for picking Uranus!