Posted by Laura Abernathy Huffman on Aug 24th 2023
Grab a roll of one-cent coins, a handful of quarters, and your best road-tripping buddies and go on a squishin' mission to Uranus Fudge Factory!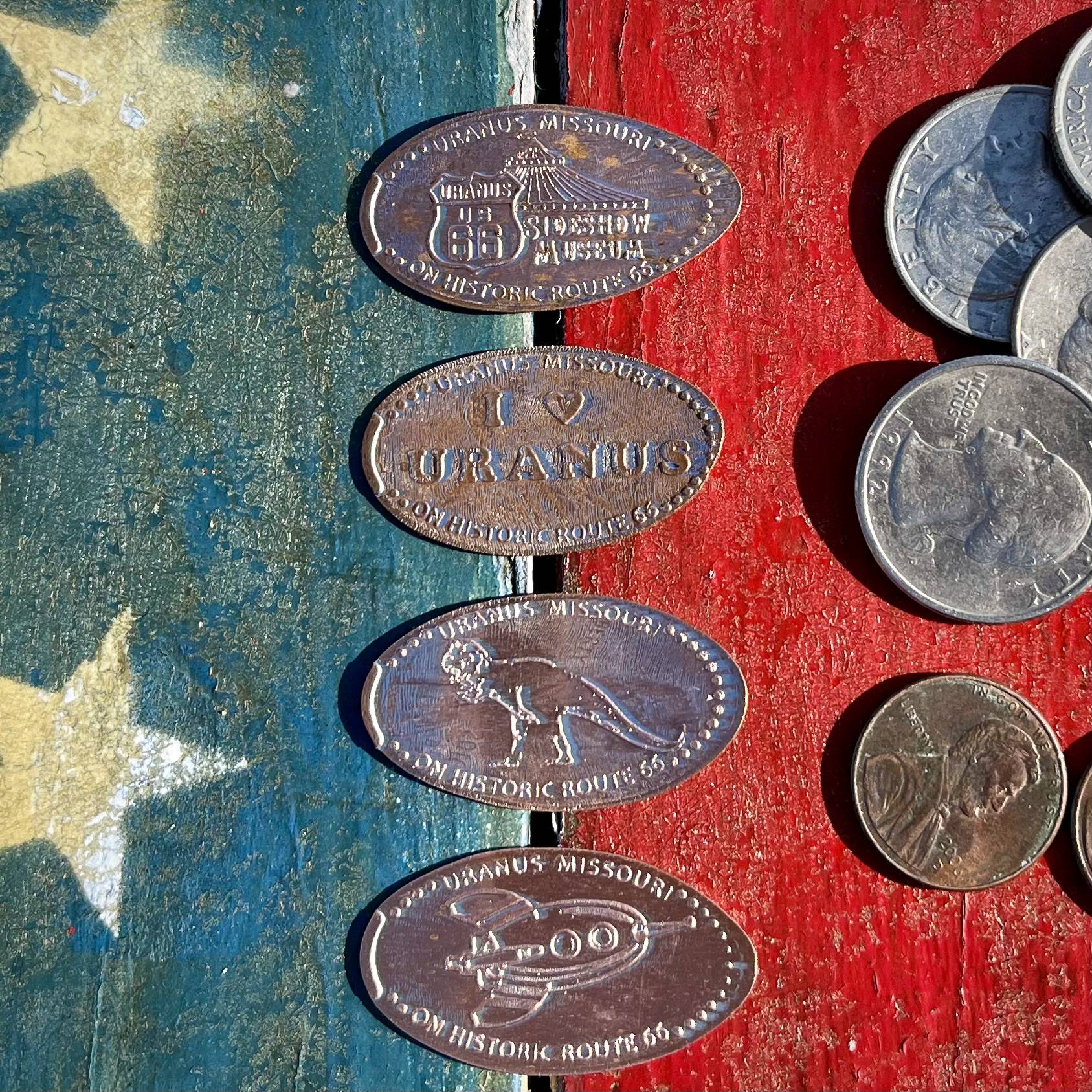 by Laura Abernathy Huffman
What the heck is a squishin' mission you ask? Let's turn back the clock to the day of steam-engine locomotives and let Uranus teach you a thing or two.
Minutes before the Baltimore & Ohio Railroad launched their rail service, an unidentified young lad placed a brand-spanking new 1827 penny on the tracks. The train rolled over it, flattening the round coin into an ovalish shape. The kid was on to something.
Squishin' pennies on the railroad tracks quickly became a rite of passage for kids living in railroad towns. A penny that had been flattened by an out-of-the-ordinary train was a cherished pocket piece. Pennies that were crushed by the funeral trains of American Presidents Abraham Lincoln and Ulysses Grant were treasured mementos that were passed down to children and grandchildren.
At the Columbian Exposition at Chicago, Illinois in 1893 an enterprising entrepreneur brought a hand-cranked mill-type machine. He had engineered a reverse-engraved die cut into a steel roller that proclaimed "Columbian Exposition 1893." The set-up was akin to the wringer on an old-fashioned washing machine. The contraption pressed pennies under 22 tons of pressure, both elongating the copper coin and imprinting the text onto the penny. That unknown businessman was on to something.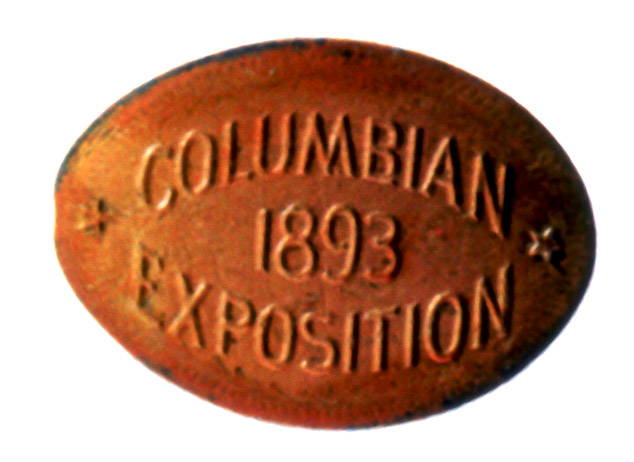 Squished pennies engraved with slogans, The Lord's Prayer, and The Ten Commandments have been a treasured pocket piece since 1893
For the next 23 years collectible pressed pennies were a wildly popular souvenir at fairs and expositions. Squished pennies were even incorporated into the design of fashionable hats for ladies. In 1936 vendors in New York City on Fiftieth street, between Sixth and Fifth avenues, began hawking rolled out pennies with the Lord's Prayer inscribed on one side. The American public made the pocket pieces a must-have memento. They have remained a popular collectible ever since.
President Harding's funeral train, draped in black bunting, at the Union Depot at Akron, Ohio August 7th 1923. Pennies were strewn on the rails ahead of the steam engine. Akron-Summit County Public Library photo
Not much changed in the pressed penny business for decades before the next big thing in squished pennies happened in 1972, at Portland, Oregon. Vance Fowler, who had experience making, servicing, and repairing dairy industry machinery, created a stand-alone penny crusher machine. Fowler's device was coin-operated, required no attendant, and pressed out a penny that proclaimed "I Love Oregon". Fowler's father, Roy S. Fowler, Sr., worked in the Display Department of Meier & Frank department store. Shortly before Fowler's father retired, Vance got the go ahead to install his souvenir penny machine at the store.
Fast forward to 2015 at a brand-spanking new roadside attraction on a rural stretch of the Missouri Ozarks when Mayor Louie Keen decided to open Uranus Fudge Factory. Mayor Keen had been a fan of road trips, memorabilia, and exonumia since boyhood. Keen recalled squishin' pennies as a youngster. The handsome and humble Keen had a penny squishin machine installed inside his new General Store.
Uranus fans and crushed penny collectors can now stroll out of Uranus with 8 unique crushed penny designs. Four unique designs can be found at Uranus Fudge Factory's #2 location off Interstate 69 at Anderson, Indiana, and four unique designs at our original Uranus Fudge Factory location off of route 66 in Missouri. Come squish out a penny or two from Uranus!