Posted by The Mayor of Uranus on Apr 29th 2020
Get Your Fudge Packed for Mother's Day
&
A Chance to Win $50,000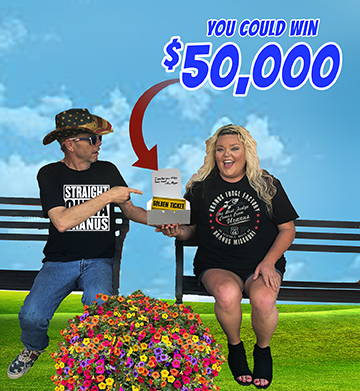 ---
This Mother's Day, it's time to let the Mom in your life enjoy the Taste of Uranus right smack in her mouth!
Even better than that, they might get a chance to pull $50,000 out of Uranus by playing our Pick 5 Game if they get " The Mayor's Specially Packed Fudge Box"
Now that's a gift every Mom will love!
How Does This Game Work?
(You can watch the video about this in the link at the bottom of the page)
Every online fudge order from 12:01am (CDT) Sunday April 26, 2020 to 8:00am (CDT) Monday May 4,2020 will have a chance to win the opportunity to play our "Pick 5" game with a Grand Prize of $50,000.
The Mayor will personally sign and pack 1 (one) of the boxes of fudge to be sent out on Monday May 4th. He will hide it in the boxes of fudge to be packed and shipped by our team of fudge packers. No one will know which box it was packed in and to whom it is being shipped.
The Winner is the person who receives the box the Mayor signed. The winner will have to PM us on Facebook or send us an email to FudgePacker1@UranusGeneralStore.com before 11:59pm CDT May 31st
Okay, there is no golden ticket, but the Mayor's signature might be worth $$$MILLIONS$$ someday, so we will just act like it is a golden ticket :-)

No Matter What, The Person who plays the game will win 1 of the following prizes
SCHEDULE OF PRIZES
Grand Prize: $50,000
2nd Prize: $2500
3rd Prize: $250
4th Prize: $50 Gift Certificate
The Player will pick from 40 numbered bags until they get 5 matching prizes

5x bags will be stuffed with Grand Prize (odds of winning are 1 in 500), 6x bags are stuffed with 2nd Prize (odds of winning are 1 in 100), 9x bags are stuffed with 3rd prize (odds of winning are 1 in 14) and 20x bags are stuffed with sponsor prize (odds of winning are 1 in 2).
OTHER INFO
There will only be one winner, the person who receives the fudge box with the Mayor's signature
Normally, Miss Tiffany and the Mayor would travel to the winner's hometown to play the game, but due to the coronavirus, we may have to play this via live video chat. We hope to be able to come to you, but we will always err on the side of safety and make that decision when a winner claims the prize
WHAT HAPPENS IF NO ONE CLAIMS THE PRIZE?
If, after May 31st, no one has claimed the prize, We will randomly choose a winner from the other people who ordered.
We will do this by putting the names on an excel sheet and let Googles random # generator choose the winner. We will do this live so everyone can watch.

Watch The Mayor and Miss Tiffany try to explain it LOL

https://www.facebook.com/watch/live/?v=1664632716994145&ref=watch_permalink