Posted by Laura Abernathy Huffman on Oct 5th 2023
By Laura Abernathy Huffman
Go Big or Gourd Home! Uranus is going hard in October with our Pumpkin Pie Nut fudge!
Pumpkin pie has been an iconic cultural symbol of the harvest season in the United States for hundreds of years. The first American cookbook, American Cookery, published in 1796, included two recipes for a "pompkin" pudding that was baked in a pie crust. Less than thirty years later Mary Rudolph was calling for a "wine glass of brandy" in her pumpkin pie mix recipe published in 1824.
American newspapers, magazines, and farm journals fawned over pumpkin pie each Fall. Before 1850 pumpkin pie was already entrenched in the American psyche as a must-have dessert item throughout Autumn. An old joke from the 1880s tells of an Illinois woman who found 2,125 four-leaf clovers, but still could not find a husband. Meanwhile, an Ozarks woman learned how to make pumpkin pie and was married in three months.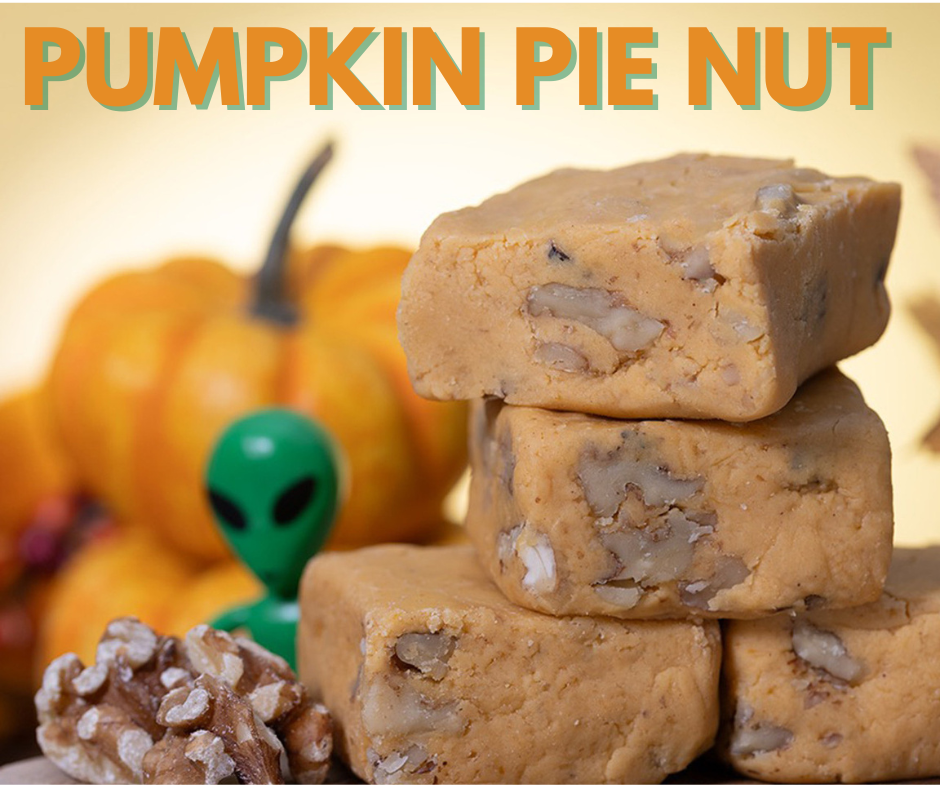 Uranus Pumpkin Pie Nut fudge is smooth and creamy, pumpkin-spiced and dreamy! Grab yours before the aliens nab it all!
AN AMERICAN INSTITUTION
Uranus Pumpkin Pie Nut fudge is smooth and creamy, pumpkin-spiced and dreamy! Chopped walnuts, another harvest season staple, add a delicious crunch! Our Pumpkin Pie nut fudge smells like the pumpkin pie your Grandma used to bake, Cinnamon, nutmeg, clove, & ginger flavors combine into an aromatic blend that provides a spark of nostalgia for your taste buds. Pumpkin Pie Nut fudge from Uranus tastes just like a warm, happy, memory- and pumpkin pie of course!
Mayor Louie and his merry band of fudge packers are only creating Pumpkin Pie Nut fudge during the month of October. Pull into Uranus on Route 66 in the Missouri Ozarks, or off I-69 in Madison County, Indiana at Anderson to get yours today! You can also order PPN fudge from Uranus and have it shipped to yourself, friends, neighbors and co-workers. We'll even pack your Grandma's fudge too!