Name the Mayor's Big Weiner
& a Chance to Win $50,000

The Mayor is about to put something new and exciting in Uranus and He needs your help!

One-Eyed Willy's Chicken Shack and Brewery is about to open in Uranus and we need to come up with some names for our menu items. To make this even more exciting, the Mayor is creating a raffle to reward those Citizens of Uranus who help come up with the names and help promote Uranus.
We are holding a raffle to see who get's to Name The Mayor's Big Weiner and get a chance Win $50,000 in our Pick 5 Game. It's FREE to Enter the raffle and there are a lot of ways to get multiple entries, so keep on reading!
The Winner will get their name, or the name of someone they choose, as the name on our foot long chili cheese dog.
For Example, if the winner was Lee Delay of Springfield, Illinois, the Menu would read:
UNCLE LEE's BIG WEINER
The Mayor's Uncle, Lee Delay of Springfield Illinois has a BIG Weiner! It is 12 inches long, nestled between two buns and covered in our homemade chili, with cheese and onions. Wanna Make the Weiner in Uranus HOT, just add some jalapenos
(You Can See the Example Menu Item at the Bottom, of this Page)
HOW TO ENTER!
1. One our Facebook: Like, Tag someone in the comments and share this Facebook Post=1 Entry

https://www.facebook.com/UranusfudgeFactoryandGeneralStore/videos/1066885150374204
2. Sign Up With Your Email to Enter = 1 Entry
---
3. Get MORE Entries when you choose One of these three options
A. Just the Tip in Uranus= 5 Extra Entries
B. Get 8 Inches in Uranus= 25 Extra Entries
C. Get a whole FOOT in Uranus= 100 Extra Entries
---
Here are some examples of the 8"x 4" and 12"x 12" Bricks
These Bricks will be placed in the walkways leading to the Restaurant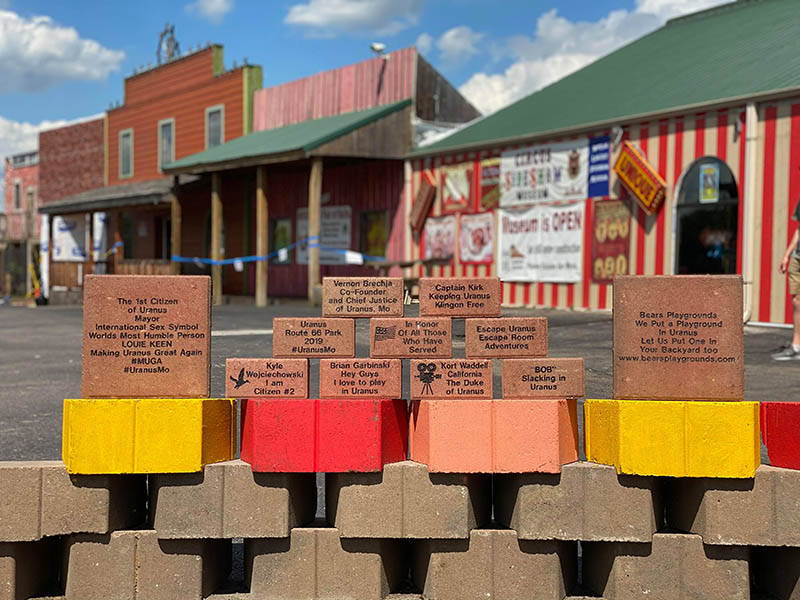 ---
Example of Menu listing of the new name of the Mayor's Big Weiner
If you win, this will be yours or your friends name on the menu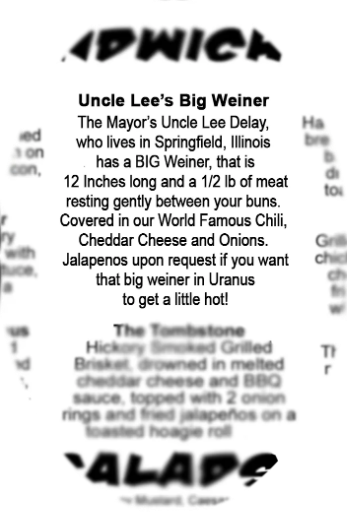 ---
Watch the Video to find out more about the Mayor's BIG Weiner
Drawing Will be held December 31, 2020
RULES and Other Information
1. Fudge and Tees will ship on Monday July 27th.
2. After that date, Fudge and Tees will ship every Monday until the Holiday shipping season starting November 1st
3. When writing your brick text, Uranus,inc reserves the right to change any text that is offensive, sexual in nature (other than puns), contain curse words, or any other text we would be shocked to find in a family fun center.
This means have fun with puns, Have fun embarrassing your friends, yourself or your Mother, but keep in mind that we have a lot of families on our property daily.
4. We will be playing an insured game called "Pick 5" . We want you to win! We paid the insurance, so it makes sense we want you to win :-)
5. No Matter What, The Person who plays the game will win 1 of the following prizes
SCHEDULE OF PRIZES
Grand Prize: $50,000
2nd Prize: $2500
3rd Prize: $250
4th Prize: $50 Gift Certificate
The Player will pick from 40 numbered bags until they get 5 matching prizes

5x bags will be stuffed with Grand Prize (odds of winning are 1 in 500), 6x bags are stuffed with 2nd Prize (odds of winning are 1 in 100), 9x bags are stuffed with 3rd prize (odds of winning are 1 in 14) and 20x bags are stuffed with sponsor prize (odds of winning are 1 in 2).
OTHER INFO
There will only be one winner. The person chosen by a drawing or random number generator
Normally, Miss Tiffany and the Mayor would travel to the winner's hometown to play the game, but due to the coronavirus, we may have to play this via live video chat. We hope to be able to come to you, but we will always err on the side of safety and make that decision when a winner claims the prize
WHAT HAPPENS IF NO ONE CLAIMS THE PRIZE?
If, after January 31st, no one has claimed the prize, We will randomly choose another winner from the other people who entered.
We will do this by putting the names on an excel sheet and let Google/s random # generator choose the winner. We will do this live so everyone can watch.